The tree, the lights, the gifts...these all add to the beauty and fun of the holiday season! Don't let any Grinches spoil your holiday - here are a few tips to protect your from the Grinch!
Notify your Neighbor(s)
Ask a trusted neighbor to keep any eye on your home, or have a house sitter. Also be sure to make arrangements for someone to shovel the drive and walks, and pull in any packages, newspapers and mail.
Keep Travel Plans Offline
Posting personal information about your travel plans can expose you to all kinds of risk. Try to avoid posting on your social media sites about upcoming travel plans, particularly when you are leaving and when you'll be back.
Use Timers for Lights
Whether you are going out of town or not it might be a good idea to put the holiday lights inside and outside on a timer.
Inspect Lights Before Stringing Them
Be sure to check to make sure the cords are not frayed, no bulbs are broke or cracked, and do not string together more than a few stands to prevent overheating and possible fire. Make sure to use only outdoor rated lights outside.
Keep the Gifts Hidden!
The tree always looks so nice with the boxes with pretty paper, ribbon and bows set around the bottom...but beware, that can be an invitation to the Grinch. It's best to keep the gifts hidden, out of view from windows.
Inspect the Fireplace, Chimney and Furnace
If you have not yet had your furnace contractor out to inspect your furnace - give them a call. You don't want to be caught off-guard with a non-functioning furnace. Also, if you have a wood burning fireplace make sure to call a chimney sweep to inspect and clean out the chimney and make sure a guard is secured over the top to keep critters from joining you in the holiday festivities!
In the Kitchen
Be sure to keep an eye on the stove, oven and/or grill while cooking. Keep oven mitts, towels and other flammable items safely away from heating elements.
Oh, What a Beautiful Candle!
Keep candles safely from flammable items, be sure to extinguish the flame before leaving the house or retiring to bed.
Christmas Tree
If you have a live or fresh cut tree, be sure to water daily. Keep trees away from fireplaces, candles or other heating elements or lights, and never use real candles to decorate your tree.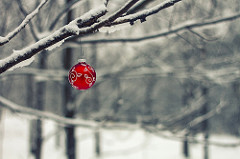 From my home to yours -- Have a Happy and Safe Holiday Season!
~ Kim